I guess if you aren't an eBay insider or e-comfortable it is easy to get confused.

I can tell you that Pierre was surprised, see for yourself:







There is a short news video clip (scroll down) and I found the most amusing part of it to be Meg's face.

Personally I have always believed Keith Ferrazzi who said that to be credible "the first prerequisite is deep familiarity and facility with your subject matter." On the other hand maybe Ferrazzi Greenlights mission and values aren't a good fit in this case.

Y'all come back!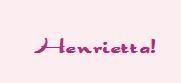 Links & Related Articles